Power Inverters Security Considerations
Although
power inverter
is used widely, but in terms of security, the national authority organizations in China have made the corresponding certification. We need to understand the specific assessment project to ensure the safety of equipment. In order to offer better protection to the safety of operating personnel, the following aspects should be considered accordingly.
First
, the temperature is to be considered. Because once the short circuit or open circuit occurs, it will lead to overheating at the time of equipment working. Hence we need to consider the temperature rise to ensure the normal operation of equipment and will not cause damage to operating personnel.
Second
, it needs to be considered about fire safety performance of the equipment at the time of production. After all, inverter is electronic products. So there will be some failures when it works. These failures led to the situation are more complex. So manufacturing material should be fire resist.
Third
, electrical resistance needs to be considered. After all, it is the DC voltage into an AC voltage when the devices are used. The voltage after conversion up to 240V, and this voltage will do harm to the operator. So the insulation performance of the equipment should be better.
Of course, in the inverter safety assessment of the project, apart from the need to consider the above issues, we should also consider about limiting circuit. Thus it can ensure the safety of operating personnel through limit the output currents.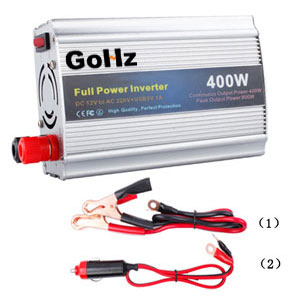 Power Inverter Source