Power Inverter Inner Structure and Types
Most people thought that the power inverter only can convert DC into AC. Much electrical equipment is using AC, so the inverter becomes very important. But we maybe don't understand the development of
the principle of inverter
. Surely we do not very understand, so let us take a look on some of the inverter knowledge.
For the power inverter, the first we need to know is that the inverter is a transformer, which runs actually process of converter voltage inverting. The inverter is the most widely used technology in pulse width modulation technology. Its core part is the integrated PWM controller, which controls the process of program, just like our brain.
Of course, the power inverter can be more than a core part. It also includes regulators, oscillators, short circuit protection and low voltage protection circuit and so on. Because of the close cooperation in these parts, the power inverter can be normal and orderly conducted. It makes a big impact to people's life. Such a small inverter bears great technical content.
Furthermore, the inverter is not only one or two. There are many kinds of inverter according to their classification. It is common sine wave inverter, square wave inverter, inverter active and passive inverter of course there are other inverters, will not describe. You know, if you need to buy an power inverter, then we must understand clearly what kind of inverter you need.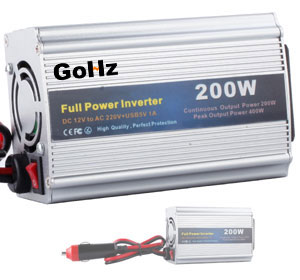 There are a lot of knowledge about the power inverter, we can't describe clearly in such tiny article. But in our life, as long as we know some about inverter, we should be on it.

Power Inverter Source