Car Inverter Maintenance Key Point
Since the car inverter circuits generally have a power soft-start function, so after the power is turned on to wait for 5s-30s will be after the 220V AC output, and LED indicator lights. When the LED is not lit, the inverter circuit cannot work.
When the
car inverter
power is connected for over 30s, and the LED lights are not lit, you will need to measure the AC voltage at the output jack XAC. If the voltage is normal about 220V, then the LED indicator is only part of the circuit appears fault. If XAC by measuring the AC voltage output sockets at a value of 0, then the cause of the malfunction before the inverter stage inverter circuit did not work, probably chip IC1's internal protection circuitry has been activated.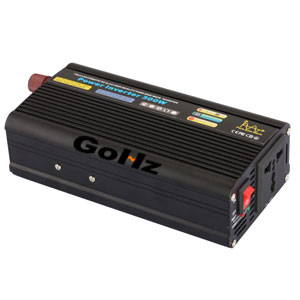 Chip IC1 determine whether the internal protection circuit is activated it is: with a multi-meter measuring DC voltage blocking chip IC1 3 feet on the ground DC voltage, if the voltage is above 1V is described chip protection circuit has been launched, otherwise the description of the problem Causes non-protection circuit caused.
If the chip IC1 3 feet on the ground voltage are above 1V, indicating that the DC voltage chip protection circuit is activated, for further DC voltage with a multi-meter test chip IC1 block between 15 and 16 feet, and the chip IC1 DC voltage between 1 and 2 feet. Under normal circumstances, the circuit chips IC1 15 feet on the ground DC voltage should be higher than 16 feet on the ground DC voltage, DC voltage pin 2 to ground the DC voltage should be higher than 1 foot on the ground, and only when the two when the conditions are met, the chip IC1 3 feet on the ground DC voltage to be about normal 0V, the inverter circuit to work properly. If it is found in a test voltage does not satisfy the above relationship, simply press the corresponding branch to find the cause of the failure to solve the problem.

Power Inverter Source